Learn about ways to save tons of money on your wedding. I break down different ways to cut spending in each aspect of your big day including venue, food, attire, decorations, and more. Plus a couple bonus pictures from my wedding 🙂 This article may contain affiliate links, for more information please see my disclosure policy.
The average price of a wedding has skyrocketed over the past couple years. The Knot estimates that the average cost of a wedding in 2016 was $35,329. That's more than a decent down payment on a house, a luxury car, or the average student loans of graduating college students.
This price tag is shocking to most people, but as someone who just had a wedding, I can definitely understand how it can happen. If you aren't careful with your budget, the cost of your wedding can easily get out of control.
I am really excited to share simple ways to save money on your wedding. (Ok, so I might be a little excited to share some of my wedding pictures too)
The Knot also provides a nice break down of the cost for each category, let's take a closer look at each one and how you can save big on your big day.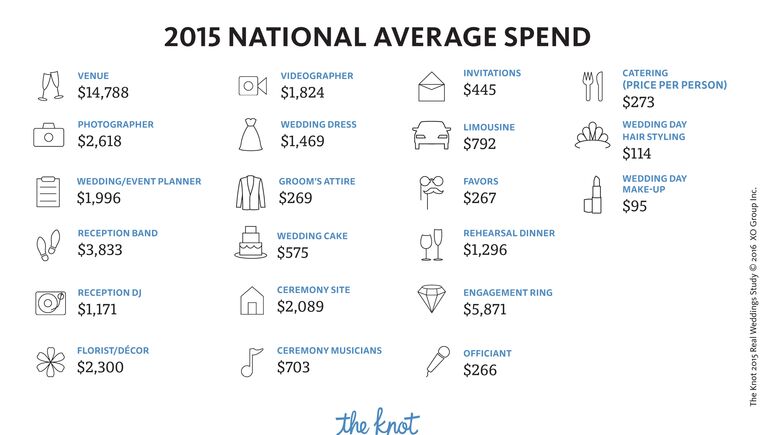 Source: www.theknot.com
Fair warning, this is a long post, you can always skip through to just the items that matter to you!
Venue
As you can see, a venue takes up the largest portion of your budget, luckily there are many ways to save money.
If you live in a city, try finding a location further out from downtown. My friends are saving over $30/person by having their wedding an hour outside of Chicago instead of in the city. Not to mention this also means cheaper hotels for guests that are traveling.
Another easy way to save a ton of money is to be flexible with your date. My other friend wanted a May wedding but the venue she loved still offered "winter pricing" in April. She decide to have the wedding two weeks earlier and saved close to $25/person. Being flexible with the day of the week is also great, many places offer discounts for Friday and Sunday weddings.
You can also save some money by having your ceremony and reception at the same venue. By having them at the same place, you don't have to pay for transportation between locations and your guests don't have to figure out where they are supposed to be.
Another way to save big is by having your reception at low-cost venues such as backyards, parks, fire halls, historical building rentals, and church halls. You might have to do a little extra work as far as decorations and essentials (table and chairs), but it could be worth the hassle for a low or no-cost venue.
Photographer
My husband and I really struggled with how much we wanted to spend on a photograph. I knew pictures were the one thing I really didn't want to skimp on because we were going to treasure them for the rest of our lives.
Don't be afraid to ask if a photographer is willing to take out part of a package in exchange for a discount. You could forgo printed copies of the pictures and instead get the digital copies you can print yourself. Also consider having a friend shoot your engagement photos or opting out of having an extra photographer.
Wedding Planner
Wedding planners are a great resource if you are busy or easily stressed. However, it is definitely possible to plan a wedding on your own and save the cost of a planner. There are many free resources online to help you organize everything you should be doing and when.
I will say, Allen and I did hire a wedding planner because our wedding was across the country from where we live. Our wedding planner was super helpful and she did get us a couple extra discounts on some of our vendors. If you are going to hire a planner, ask if they will pass along any planner kickbacks to you.
Reception Band/Reception DJ
Great music can make or break your reception, but you don't want it to blow your budget. One of the easiest ways to save money is to shop early and shop around.
Newer DJ's typically charge a little less because they are still trying to get their foot in the door. You can always check out a DJ beforehand at a public event to see if you like their style.
If your budget is really tight you could forego formal entertainment and make a playlist of your own. You can rent speakers for relatively cheap and play music right from an iPod. There are many recommendations online for songs and playlists.
Florist/Decor
Gorgeous centerpieces and decor set the mood of your reception. In order to save money, opt for in-season flowers and large/cheap flowers that take up space like hydrangeas.
If you are determined to use a certain type of flower, consider going with artificial flowers. I was dead set on red roses and the centerpieces I wanted would require over 1500 roses total. I found these awesome foam roses on Amazon that we used for all my center pieces and bouquets. I literally ordered 5 different types of foam roses from various vendors and these were by far the best ones.
My cascading foam rose bouquet. Photo credit: Jorge Santiago Photography
The other pro to using artificial flowers is that you can keep your centerpieces and sell them. I took all my centerpieces to a local bridal consignment shop (for my fellow Minnesotans: Bride-to-be Consignment) after the wedding and sold them for several hundred dollars and got most of the cost back.
If flowers really aren't your thing, you could also do non-flower centerpieces. Pinterest is a great resource to find unique non-floral centerpieces. If something you want to use is expensive to buy, look into renting parts from an events company.
Wedding Dress
Certain bridal dress shows on TV *cough* Say Yes to the Dress *cough* show brides buying dresses that cost more than my first car.
Luckily, there are many options to spend less on a dress. Buying a used dress or renting one are great options. See if there is a local consignment shop near you that sells wedding dresses. Otherwise, eBay and wedding forums are great places to check too.
If buying used or renting don't appeal to you, you can still buy new without breaking the bank.
Call around to several bridal shops and ask their average dress prices so that you know you are shopping at places with dresses in your budget. When you go to your appointments, make sure you are adamant about your price limit and only try on dresses in your budget.
David's Bridal  also has $99 dress sales which is awesome! Also keep in mind, their website runs promotions above and beyond the store so you might be better off buying online. I have gotten two bridesmaid's dresses online when they were having a $40 off online only sale
If you are looking for non-traditional wedding dress, check out department or dress stores to save money.
My beautiful wedding dress! Photo credit: Jorge Santiago Photography
Groom's Attire
There are two typical routes for groom's attire: rent a tux or buy a suit.
If you are going the rental tux route, look for a place that offers free tux rentals for the groom if his groomsmen order from the same place. Allen rented his tux from Men's Warehouse. Men's Warehouse is great too because they can match any color bridesmaid's dress from David's Bridal.
Buying a suit for the wedding is a great option because, well, then you have another suit! You can get years of wear out of a suit which will help offset the cost.
Wedding Cake
Similar to wedding dresses, TV shows featuring outrageous cakes, have changed expectations as well as budgets.
A typical tiered wedding cake with moderate decorations runs about $3-$5/slice. If you want a custom shape/design you could be paying upwards of $1000 for a cake.
Luckily it is really easy to save on a cake. You can have a simple display cake that is either just one tier or made of Styrofoam that the bride and groom cut at the reception. Then the guests receive pieces of a sheet cake or cupcakes to actually eat. You can get sheets cakes for cheap at bakeries or even Costco.
Invitations
One of the easiest ways to save on invitations is to cut back on postage. Did you know you have to buy a special stamp that costs $0.21 more than a regular stamp if you are sending square invitations?
Extra weight also means extra postage. You can skip adding information cards and instead direct your guest to your wedding website for more information on location, parking, hotels, etc.
Another way to save is to wait for a sale and order everything at once from an online printing company. Many companies such as Wedding Paper Divas, Vista Print, and Tiny Prints have thousands of pre-designed templates you can choose from.
Transportation
Transportation can quickly get out of hand. I remember we were quoted $2000 for a shuttle to get guests to and from the hotel to wedding. Needless to say we found different options.
One of the easiest ways to eliminate transportation costs is to pick a venue that has a hotel onsite that you and guests can stay at.
If that is not an option, look for hotels that offer free shuttles to local venues.
You can also get creative and find unique rides. Have a family member drive you in his old classic car. Allen and I took an Uber the 8 blocks from our venue to hotel at the end of the night.
If you have your heart set on a limo, make sure you know exactly how long you need it. No sense hiring a limo for 5 hours if you just need it for an hour to take you from the ceremony to the reception.
Favors
Scaling back on your favors is one of the least noticed categories to cut costs. While personalized memorabilia from your wedding is adorable, make sure you ask yourself if it is really something your guests will use or if it will end up in a junk drawer (better yet ask an honest friend, you might be blinded by the cuteness of your idea)
DIY is a great idea for favors to save money. For an inexpensive edible favor, buy a couple yards of tulle in your color and make little pouches of candy tied with ribbon and a tag with your name on them.
My mom and her friend handmade these adorable cake pops for our favors. For the cake mix, icing, chocolate, bags, ribbon, and tags it was less than $80.
Bride and Groom cake pops! Photo Credit: Undisclosed family member 🙂
Rehearsal Dinner
When we were looking for rehearsal dinner places, it seemed like most formal restaurants were priced in the $30-$45+ per plate range (not including drinks or tip). Depending on how large your guest list is, that can get really expensive really fast.
I like to think that since your wedding will be a more formal event, why not go a little more casual with rehearsal.
Allen and I had ours at a local pub and all the food and tip came to ~$400 for 30 people. We also opted to not pay for alcohol for rehearsal since we knew there was going to be an open bar at the wedding the next night.
You could also do a potluck or caterer and either rent out a cheap room or host it at family's house.
Officiant
Depending on the type of ceremony you are having, you might need a specific officiant. Religious officiants typically have a usual price/suggested donation. If you are open to other officiants, any of your friends or family can get a certificate online for just a couple dollars and perform the ceremony.
Catering (per person)
The cost for catering can vary greatly depending on the type of food. Even if your caterer has set packages you can still work with them to negotiate and cut costs. For example, our catering package included hot hors d'oeuvres and cheese/fruit display for cocktail hour. However if we went with just the cheese/fruit we would save $5/person.
How your meal is served will also factor into the cost. Buffet style tends to be the cheapest, followed by stations, and then sit-down. Buffet style is also easiest if you have a large guest list.
You can also save money with the type of meal you serve. Opting for food like BBQ or food truck food is less expensive than a steak dinner.
Depending on the time of day of your reception, you could possibly get away with not serving a full meal and just offering a spread of heavy appetizers.
Alcohol/Bar
It can be taboo to not have some sort of free alcohol at a wedding (unless you know that almost all of your guests don't drink)
Our venue required us to use their bar service at $26/person for 4 hours of open bar so unfortunately there was not much room to save. Even though it was a sizable chunk of our budget, I am glad we had it because our guests enjoyed it.
If you can do your own alcohol, you can save by limiting your selection. Try offering a couple signature drinks and 2-3 types of beer and wine.
Supplying the alcohol yourself will also save you big money. Costco has a great selection of store-brand liquor that tastes just like the name brand for half the price.
Bridal Hair & Make-up
Hair and make-up is an important part of a bride's overall look. There a three main options: go to a salon, have a stylist come to you, or do-it-yourself.
Doing your own hair and make-up (or having a talented friend help) is by far the cheapest option. Some brides also prefer doing their own hair and make-up because they feel like they look more like their true self.
My wedding planner said that going to a salon will typically be 10-15% cheaper than having a stylist travel to do your hair where you are getting ready.
Some stylists will also charge less for less dramatic looks; i.e. natural makeup will be cheaper than full out make up and a blowout would be cheaper than a full up-do.
Conclusion
There are tons of great ways to save money on your wedding, it all comes down to what your priorities are and what will fit in your budget. I have heard of brides that wore a $5,000 dress to a fire hall pot-luck reception that cost less than $1,000.
Hopefully you found some helpful ways to save money on your dream wedding!
Leave a comment letting me know how you saved or plan to save money on your wedding!
Free Budget Binder Printable
Sign up to get your free PDF of my budget binder printable and receive the latest content right to your inbox
Please follow and like us: